Chill Out Ice Cream
Indoor & Outdoor Vans
Indoor events can now be catered for (subject to access) with the optional electric drive system. This means you can have a real fully working ice cream van at your indoor event, exhibition, concert, TV or film set.
All that is required is a standard 32 Amp 240 Volt electricity supply.
The Whitby Morrison 32 Amp Switchgear Control Panel
This system can also be implemented out doors, where a van operating in a static position may cause environmental concern's such as noise and air pollution issues/worries. These later two problems are completely removed when the electric drive system is used.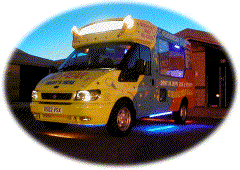 *
*
*
*